The sexy newcomers Eric T. and Sammy T. will be debuting soon on All American Guys.  Here's a preview video featuring the sexy midwesterner Eric, sporting Marcuse swimwear.  Eric's definitely not shy about showing off his hard-earned physique.  To see more of Eric, please JOIN THE MEMBERS AREA.
The photo features Eric T. alongside Sammy.
Check out the full list of models in the running for "Model of the Year 2015". Click Here to View Them. Then cast your vote below in the PUBLIC POLL. Also feel free to leave a comment and share this page using the share features up top.
The winner of this year's contest wins over $700 in prizes including a trip to the islands for an AAG shoot. Voting ends January 13, 2016 at 12pm EDT.  **This portion of the voting accounts for 50% of the total vote.  AAG members' votes count for the other 50%.
The public voting booth for All American Guy of the Year is Closed. Please stand by for results which will be announced at 8pm EDT. on 1/13/16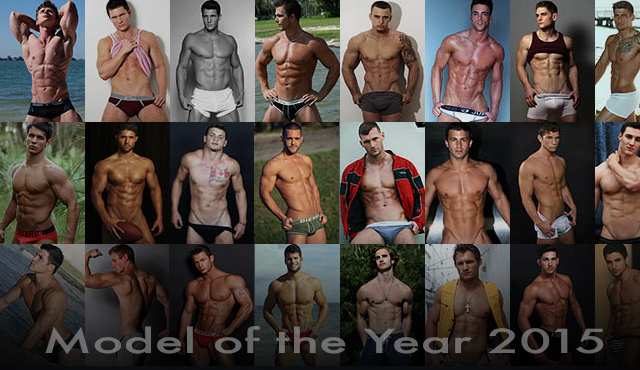 The 2016 Masculine Calendar is available for purchase for all you fans of the brand.  Today's featured model is the sexy Ryan Harmon who appears in the 2016 calendar.  Ryan is a native of Washington state and is a relative newcomer to the fitness modeling industry.  He's a passionate and ambitious young man with looks to boot and did we mention he has a killer physique? To purchase the Masculine calendar for 2016, please visit this link: www.masculinecalendar.com
To see More of this Model JOIN HERE
To see More of this Model JOIN HERE
It's been an amazing year for Quinn Biddle. In less than eight months, he's rocketed from relative obscurity as a 22-year-old college athlete from the Midwest to being one of AAG's most popular and recognizable models. First scouted at the Arnold Classic last April by Michael Anthony Downs, Quinn has worked with several other top photographers in the field. "I was just there with my buddies to check it out," Quinn says of his timely presence at the Arnold. "I was in pretty good shape, I'd been an athlete all my life. I had a friend who was a fashion model, but I never really thought about it for myself."
To see More of this Model JOIN HERE
Quinn was aware of guys like Steve Cook and Craig Capurso. He'd Skyped with the latter and used his 30 Days Out program to get in shape. But it never occurred to him to pursue fitness modeling on his own. But all that changed when Michael Downs approached him and suggested they set up a shoot. What had impressed Downs was Quinn's striking good looks and piercing light blue eyes. He was a stand-out in any crowd.
After a strict diet and intense cardio training, Quinn arrived in Florida for his first shoot in super shape. "I was down to 182 lbs." Was he nervous about being in front of the camera? "Not really. I wasn't too worried. I'd been told before that I was photogenic. So it wasn't a big deal to actually do it." Nevertheless the results surprised him. "I was stoked when I saw the photographs. They were awesome. I didn't know what to expect. I'd never done a professional shoot before." Back home people were equally impressed. "I come from a really small town in Indiana. It was funny because people began to act like I was a celebrity. Ever since I was a kid, I always wanted to be famous. Not to brag, but in high school and college I was pretty popular. I was used to it." Playing football helped, but Quinn also stood out as a student, winning academic honors in high school and attending Wabash College where he majored in English and Creative Writing.
It didn't take long for other offers to come in. Quinn traveled to Las Vegas and shot with Furious Fotog and Eric Wainwright. He also worked with Michael Stokes in L.A., then  John Hough and "King of Covers" James Ellis. In September, Quinn was approached by the producers of the Steve Harvey Show on television. He landed a spot in a dating episode. The reaction to his appearance was extremely positive.
In the fall, Quinn decided to relocate to Florida. "There aren't that many modeling opportunities in Indiana," he says. "But it was a big jump. " He discussed the move with his Mom and headed down soon after a cousin's wedding. "The first few weeks were not easy. I didn't know anybody down here and was not making much money. I didn't have any family to rely on," he says. "But then I landed a second job, met some fun people and things began to change for the better."
A recent highlight for Quinn was his trip to Miami to work with Jorge Freire and Abel Cruz of Photo Studio Miami. "That was probably the most fun I've had yet on a photo shoot. They are super fun guys and their studio is pretty sweet." One of the shots they did, landed on the cover of Miami-based Wire Magazine. It was Quinn's first cover but certainly not his last. He and Photo Studio Miami already have plans for more. While in Miami, Quinn also shot with legendary photographer David Vance. The results were spectacular and were featured on a prominent blog. He's also been to Atlanta a couple of times to work with photographer Jeff Horner. On his last shoot he collaborated with fellow AAG model Tanner Chidester.
For Quinn, becoming a model has been a learning experience on many levels.. "I've opened up a lot since I first started," he says. "When I first started, I was super covered up. I didn't want to do speedos, or underwear shots. But I realized that if you want to get noticed in this business you have to do some of that work, be edgy. But lately I've pulled back on the sexy stuff. It's not ultimately what I want to be known for."
Book covers have proven to be a good outlet for Quinn. Author M.J. Fields has used Quinn's images, shot by Michael Downs, for a series. Other book covers with well-known photographers are in the works.  "They can be profitable and are a good marketing tool," Quinn says." So too Facebook and Instagram where Quinn has a rapidly growing following. "Social media is like having a giant billboard without having to pay for the space," he says. But it can have its downsides too. "You have to filter out the creepy people or mark some of the more provocative messages as spam." The plus side is making a difference in people's lives. "What I like are the people who contact me and tell me how much the motivational posts I've done have been helpful to them, that they really needed to hear that message today. I always try to keep it classy."
What's next on the horizon? Besides some book cover projects and the usual paid shoots, Quinn is busy training for  a bodybuilding show in February. He'll compete in the Classic Physique division. "I hope to place high, be a national qualifier, try and get my pro card. That should provide more visibility to sponsors and other sources of revenue."
Being a fitness model is never easy. Aside from the training and dieting, and frequent traveling, one has to deal with the constant attention and demands. Even though he is still relatively new to the business, Quinn seems to be taking it all in stride. His head hasn't blown up too much yet. "I"m a naturally humble person," he says. "It might have to do with where I'm from and how I was raised. I'm just a normal guy like everyone else."
To see More of this Model JOIN HERE
If there were an award for being Mr. Personality in the fitness field, J.R. Wallace would be a shoe-in for the title. Standing at 5'10" with devilishly handsome looks and a dynamite bod, this Texas hunk charms everyone he meets. You can't help but be swept up by his magnetic energy and gung-ho spirit. Whether competing in shows or posing for fitness shoots, J.R. always brings his A-game. His inspirations over the years have been his buddies Cole Miller and Bobby Momenteller (one of AAG's most popular models) and bodybuilder Simeon Panda. Calling himself xDarkMusclesx on Instagram, J.R. is becoming as well known as his former idols. Recently J.R. was featured in Masculine Magazine, in a layout by none other than Michael Anthony Downs, but the good news is that J.R. is soon to be making his long-awaited debut on All American Guys.
To see More of this Model JOIN HERE
Gracing covers of various magazines, including France's Mensuel, or sporting James Tudor underwear for a fashion spread J.R. is ridiculously photogenic. In just a few short years, he has developed a wide fanbase and reputation as a fun-loving, easy-going guy that photographers like Furious Fotog and Jorge Freire repeatedly turn to. Recently J.R. has become affiliated with Swole Squad Apparel, fashions for the physically fit. There isn't anything this guy can't do.
They say that everything in Texas is big, and J.R.'s monster physique certainly proves that point. But he's also got a big heart to match that sick-ass bod and larger-than-life personality. Check out his scorchingly hot body of work with the Michael Downs and see for yourself Who Shot J.R.!
To see More of this Model JOIN HERE
Actor, director, photographer, fitness fanatic and rugby player, Ethan H. is one of AAG's most versatile models. Perhaps it's finding all those talents combined in one man that makes Ethan such an eye-catching catch. He's open-minded and confident without being full of himself — and he is definitely not shy. AAG members have been lucky enough to witness his hilarious antics on cam chats and to enjoy his no-holds-barred photoshoots in our sizzling new Red Hot section where models push the envelope and increase the temperature several degrees.
To see More of this Model JOIN HERE
Perhaps the most surprising thing is that Ethan H. looks just as damned sexy when he's fully clothed. You can't help listening to this guy talk. Maybe it's his devil-may-care personality or his lightning fast wit. His head is so full of creative ideas he can't help but share them. One of the hallmarks of an AAG star is the ability to get along with other models on the team. Ethan has proven that time and again, winning friends over with his dynamic personality. Why not delve into his scorchingly hot archive by joining AAG now and get to know this cocky dude first hand?
To see More of this Model JOIN HERE
Buff and built, with a playful personality, Nolan Ritter oozes a down-home kind of sensuality that no doubt stems from his Missouri roots. Behind that aw-shucks charm, however, lies a determined soul who has worked hard all his life in a variety of odd jobs (he is now studying for his B.S. in Health Management at Southeast Missouri State University). Not just another pretty face, Nolan knows how to capitalize on his unique talents. No wonder photographers all across the country have been chomping at the bit to shoot with this guy. First lensed by Luis Rafael two years ago in Miami, Nolan has seen his career take off to a completely new level in 2015, posing for Michael Anthony Downs, Allan Spiers, Eric Battershell and most recently David Vance.
To see More of this Model JOIN HERE
Nolan's sultry dark looks, boyish face and natural charms are a welcome change in a field swamped with bloated egos and overly jacked bods. At first Nolan seemed the shy and retiring type, but in the last year or so he has opened up to new, more uninhibited shoots, showcasing his smooth, sculpted physique with tasteful artistic imagery. His new 2016 calendar features some of his most phenomenally sexy shots which focus on his much-envied glutes.
It's easy for a fitness model to gain a following via social media, but it's another thing to utilize one's gifts and pursue one's entrepreneurial dreams. Nolan is as smart as he is handsome and he hopes to one day market his skills as a life coach, helping others to realize their dreams. Nolan's lust for life, his warm personality, and kind heart show through in his shoots. He's got that unique combination of guy-next-door appeal with sexy mystery man that makes people stop and do a double-take. You will too once you join AAG and check out Nolan's amazing profile.
To see More of this Model JOIN HERE
With his movie star looks and eye-catching physique, Drew Ater has skyrocketed to the top of AAG's roster of most popular models. This Atlanta-based personal trainer is no stranger to being the center of attention. Honing his body by playing football and rugby, Drew is the jock-next-door with a heart of gold. Cocky and clever, he is definitely not shy during photoshoots — check out his shower shots — and knows how to make the most of his masculine assets without sacrificing any of his boyish charm.
To see More of this Model JOIN HERE
Born and raised in Illinois, Drew moved to Georgia to pursue his dreams. It didn't take long for him to develop a reputation as a top trainer. A serious motorcycle accident a couple years back slowed him down briefly, but he threw himself into rehabilitation and doubled-up on his training. The result is that now at 26 he looks and feels better and hotter than ever. No wonder then that when the producers of Magic Mike XXL came to Savannah to find talent for the sizzling sequel, Drew was a natural fit. If you've seen the movie you no doubt spotted him in some of the scenes. He is hard to ignore, a true standout, with great potential. Keep your eye on Drew. He's going places. But for the moment, he's all yours on AAG.
To see More of this Model JOIN HERE
Big news for fans of AAG star Josh Banks! Plans have just been announced for a book to be published in the spring of 2016 by All American Guys, featuring photographs of the incredibly sexy Josh snapped by the one and only Michael Anthony Downs.
To see More of this Model JOIN HERE
Responding to frequent requests in the past, Michael is launching a new series of coffee-table-style photography books featuring the stars of All American Guys. These picture-packed tomes will vary between collections of images of AAG's most popular models, both past and present, and the occasional monograph devoted to just one stunning guy. Josh's book will be the first in the series, making its debut in the spring of 2016. Josh Banks: An All American Classic will be printed on quality paper in vivid color and black-and-white.
Culminating after years of shooting together, this much-anticipated project promises to reveal numerous never-before-seen pictures of Josh, ranging from eye-catching fashion shots to some of the sexiest unreleased images of this hunk yet. Keep an eye out for it next year as well as more from the masterful eye of Michael Anthony Downs.
To see More of this Model JOIN HERE
Parker is a newcomer to the AAG project.  He actually hails from Canada, so not technically All-american, but we sometimes make exceptions for our neighbors from up north if they fit the bill.  Call him an honorary All-american! Regardless, he has an exceptional presence in front of the cameras and is determined to carve out a niche for himself in the competitive world of male fitness modeling. Check out his new material in the Members Section of AAG.